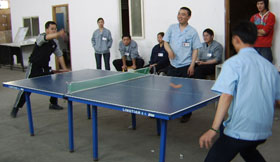 On Sunday,May 6, the first table tennis match completed .
In this highly competitive meet, the four teams fought for a top two finish.Defending champion Sui repeated his come-from-behind victory of usural time posting a 4-2 win against ZhouShaoping.
The first set of the final Sui got a big scare and lost the opening set without much resistance. It took Sui some time to find his game, trailing 1-2 after three sets.Then he began to get back on track, winning decisive points in the following sets.
In the women's final,Xing was nervous right into the match and trailed 3-9 in the first set. But she came back strongly and won the gripping first set.JinJixia  took one set back but continued to struggle, failing to deal with Xing's high speed and power.
XingYanhua followed her impressive performance, defending JinJixia in a 4-2 victory during the final in the end.